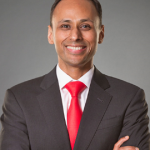 Mr. Nilesh D Gupta
Managing Director
Mr. Nilesh Deshbandhu Gupta is the Managing Director (MD) of Lupin Limited and a member of the Board of Directors.
Having joined Lupin in 1996, Mr. Gupta led Lupin's research, supply chain, manufacturing, quality and regulatory operations, and took charge as the company's MD in 2013. He has not only been responsible for transforming Lupin's research program and expanding the company's manufacturing operations but has also been instrumental in formulating and executing the core strategy that has helped Lupin emerge as a global specialty and complex generics pharmaceutical powerhouse.
Nilesh won Entrepreneur of the Year by Forbes India Leadership Awards in 2016, and the Ernst & Young Entrepreneur of the Year Award in 2015.
He is a Chemical Engineer from the University Department of Chemical Technology (UDCT), Mumbai, and a graduate with honors from the Wharton School, University of Pennsylvania, USA, where he specialized in healthcare, strategic management and finance.
Latest from Mr Nilesh D Gupta
Also Read
Ms. Vinita Gupta Chief Executive Officer

Ms. Vinita GuptaChief Executive Officer