India Region Formulations
Lupin's branded generic business is ranked #6 in the Indian Pharmaceutical Market (IPM). Our top five therapies are cardiovascular, diabetes, respiratory, anti-infective and gastrointestinal. We also have a significant presence in CNS, gynaecology, pain management and vitamin-mineral supplements, among others. In the past, we have also forayed into urology, dermatology and paediatric respiratory therapy in India.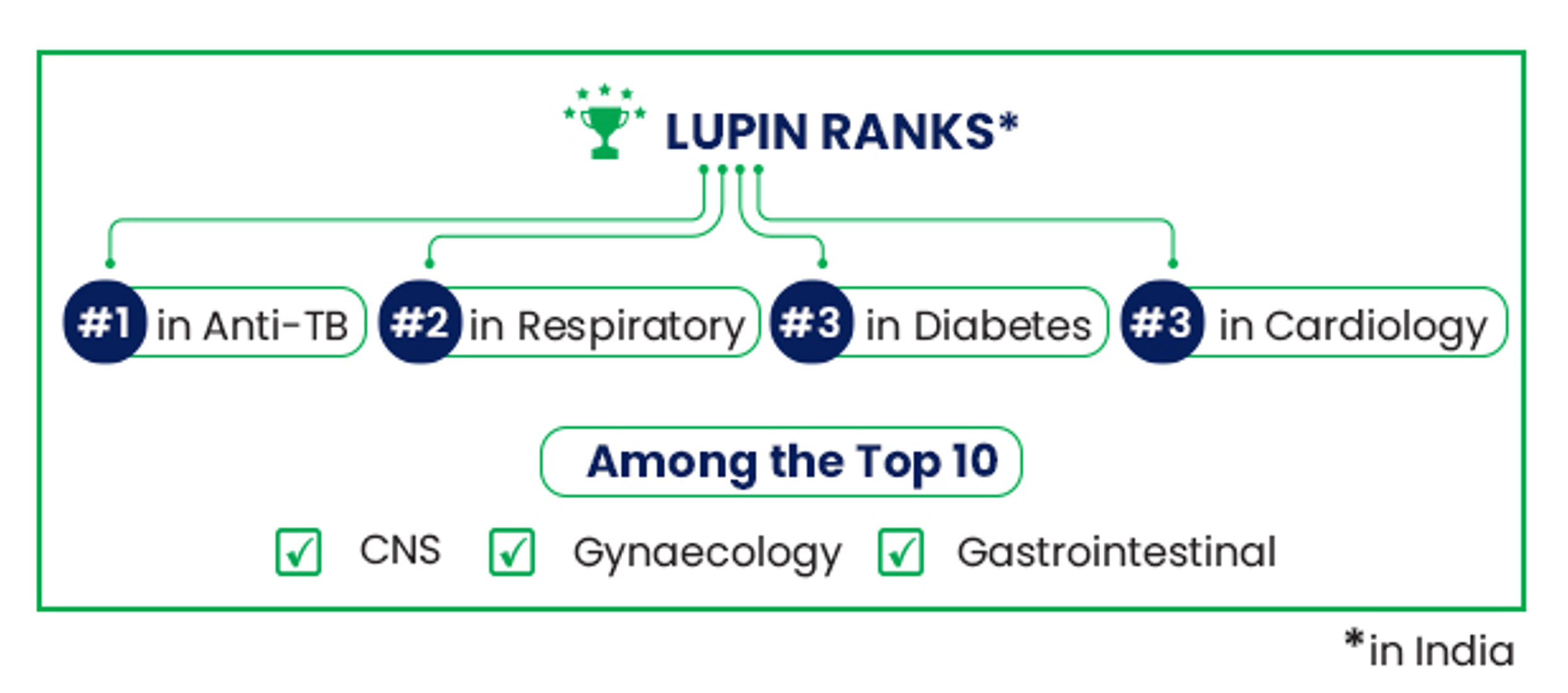 LupinLife
LupinLife is a leading consumer healthcare division that aims at helping consumers to overcome their day-to-day health roadblocks by providing quality products backed by credible healthcare expertise. The goal is to empower people with world-class healthcare support so that they can lead a healthy and progressive life.
Lupin Diagnostics Ltd
Lupin Diagnostics provides a comprehensive range of diagnostic services and preventive healthcare packages to doctors, patients, and consumers. We offer our patients more than 2,500 tests in routine and high-end diagnostics including molecular diagnostics, cytology, microbiology, serology, hematology, histopathology, immunology, and routine biochemistry. Accredited labs, automated equipment offering highly accurate results, home pickup services and temperature-controlled sample transport, among others are few of the key features that benefit our patients. With 20+ labs, numerous collection centers and sample pick up points, Lupin Diagnostics offers across multiple cities in India.
Lupin Digital Health
Under the umbrella of Lupin Digital Health, we have introduced a digital therapeutics solution, LYFE. LYFE is India's only evidence-based holistic heart care programme that significantly reduces the risk of a heart attack and improves vitals and quality of life for cardiac patients. Designed by leading Indian cardiologists, LYFE helps patients improve their heart health through doctor-connected online and offline modules. FDA and CE approved wearable devices record vital parameters and notify caregivers and doctors about off-range vitals and emergencies. LYFE's simple and intuitive interface offers medication reminders, 24X7 emergency and ambulance assistance. In addition, LYFE offers expert intervention in the form of dedicated care managers, health coaches and nutritionists. LYFE is an end-to-end solution for cardiac patients, in accordance with protocols designed by their treating cardiologists.
Atharv Ability
Atharv Ability is a state-of-the-art Neurological Rehabilitation center offering well-structured, multidisciplinary programs and delivering quality care through a team of qualified neuro rehabilitation experts – all under one roof. This one-of-its-kind center offers rehabilitation for patients with neurological disabilities and delivers maximum functional and cognitive benefits to patients. Through empathy and care, we provide rehabilitation for conditions like Stroke, TBI, SCI and other neurological conditions like Parkinsons, Cerebral Palsy, Multiple Sclerosis and Pediatric Neurological conditions. Atharv Ability strives to restore and advance abilities of patients to give them back their dignity and integrate them back into life.