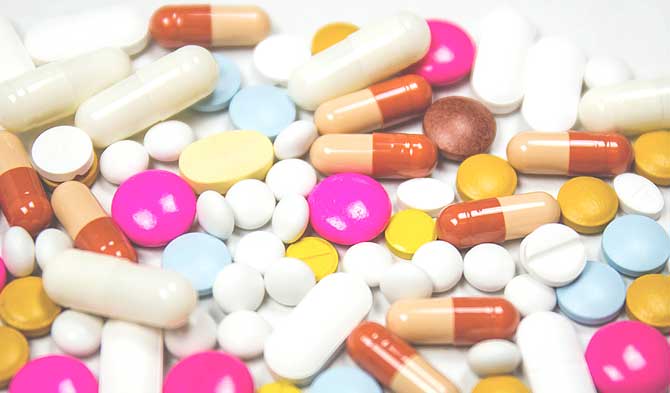 Lupin is leading global manufacturer of generic medicines with a product footprint in more than 100 countries. We are the segment leader in a number of therapy areas including anti-TB, diabetes, cardiovascular, respiratory and ophthalmic, across different geographies.
Key Markets
India
Lupin's branded generic business is ranked #6 in the Indian Pharmaceutical Market (IPM). Our top five therapies are cardiovascular, diabetes, respiratory, anti-infective and gastrointestinal. We also have a significant presence in CNS, gynaecology, pain management and vitamin-mineral supplements, among others. In the past, we have also forayed into urology, dermatology and paediatric respiratory therapy in India.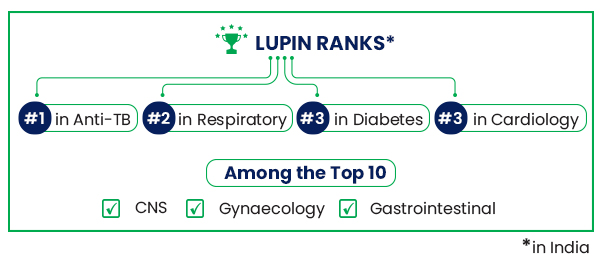 US
Lupin is the third-largest pharmaceutical player in the US by prescriptions (IQVIA MAT, March, 2020). Lupin entered the US generic pharmaceuticals market in 2003 with ANDA approval for Cefuroxime Axetil tablets. We have since received more than 250 FDA approvals and now market a total of 180 generic products. Of the top five TA in the US (by TRx dispensed, CY2020), Lupin has presence in four of top five TA, holds leadership position in the hypertension and calcium channel blocker category, and is ranked #3 in the anti-infective category. Of the top five most prescribed drugs in the US, Lupin has two products, which are ranked #1 (Lisinopril) and #3 (Amlodipine). Lupin's #1 product by prescriptions dispensed is also the most prescribed drug in the US (by TRx) and we have held leadership position for the past six years. Lupin is also leading the calcium channel blocker category for the past three years. Within the anti-infective category, Lupin has seen strong growth for its leading product, Cephalexin, which is now ranked #2.
Overall, we are one of the fastest-growing pharmaceutical companies in the US. Our consistent track record of growth on the generics side is the result of a robust pipeline, strong customer relationships, and flawless execution.
Lupin US
EMEA
In Germany, our subsidiary Hormosan offers a wide range of generics to patients in the region. Similarly, Lupin Healthcare in the UK presents patients with HIV anti-retrovirals and oral contraceptives in the region. In the South African market, through our subsidiary PharmaDynamics, we have entrenched our position as the largest pharmaceutical company in the Cardiovascular CVS therapeutic segment, and rank #2 in the Central Nervous System (CNS) and Hospital IV space.
UK
Netherlands
Germany
South Africa
Growth Markets
In the Philippines, we are the fifth-largest branded generics player. Through our subsidiary, MultiCare, we have established a strong presence in the rheumatology, gastrointestinal, and diabetes segments. In Brazil, our subsidiary Medquímica ranks as the fifth largest generic pharma company in terms of volume. Similarly, in Mexico, our subsidiary, Laboratorios Grin, is an important player in the treatment of glaucoma and dry eye, and is the second-largest ophthalmic company by units. We are also the leading company in the anti-allergics market, and rank #2 in the antibiotics + corticosteroids segment (MAT, December, 2020) in this region.
Australia
Philippines
Mexico
Brazil
Complex Generics
Our strong focus toward research and innovation has helped build Lupin's complex generics portfolio. Over the past few years, we have made significant inroads in this space and launched products such as Filgrastim, Pegfilgrastim, Etanercept and Albuterol, among others, in different geographies around the world.
We have made tremendous progress in our injectables portfolio, and are focused on four areas — iron products, peptides, depot injectables and partnered products. In the US, our complex generics will be supported by the commercial strength we have on the institutional front.
Albuterol, our key rescue inhalation product, has already garnered significant market share in the US. We are well advanced in our journey to bring other key inhalation offerings such as Perforomist and Brovana to the US, and Fostair to Europe.
Our robust pipeline of complex injectables, inhalation products and biosimilars will continue to fuel our growth, and strengthen our position in this segment.
To explore our list of our products, please click here.