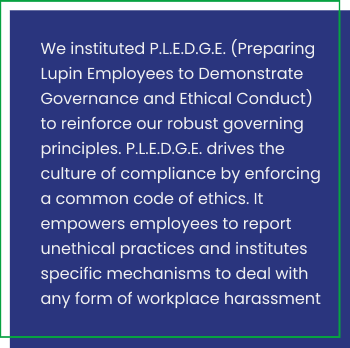 Good business requires honesty, integrity, commitment, transparency and trust – all pillars of stable governance. These values form an indivisible part of the Lupin culture and helps us uphold our promise of caring towards our customers. They underpin the way we conduct business and how we interact with our clients, our employees and the community.
As a responsible corporate citizen, we strongly believe in the power of 'right' — doing the right things, in the right manner and at the right time. Our policies and processes ensure accountability to all stakeholders and that we remain steadfast in setting the highest governance standards.
We are an equal opportunity employer, and aim to create a healthy workplace environment that is safe and empowers employees. We have a strong intolerance for corrupt and immoral practices, and adhere to established norms of ethical, moral and legal conduct in all activities.
Lupin fully complies with the Securities and Exchange Board of India (Listing Obligations & Disclosure Requirements) Regulations, 2015, on corporate governance.