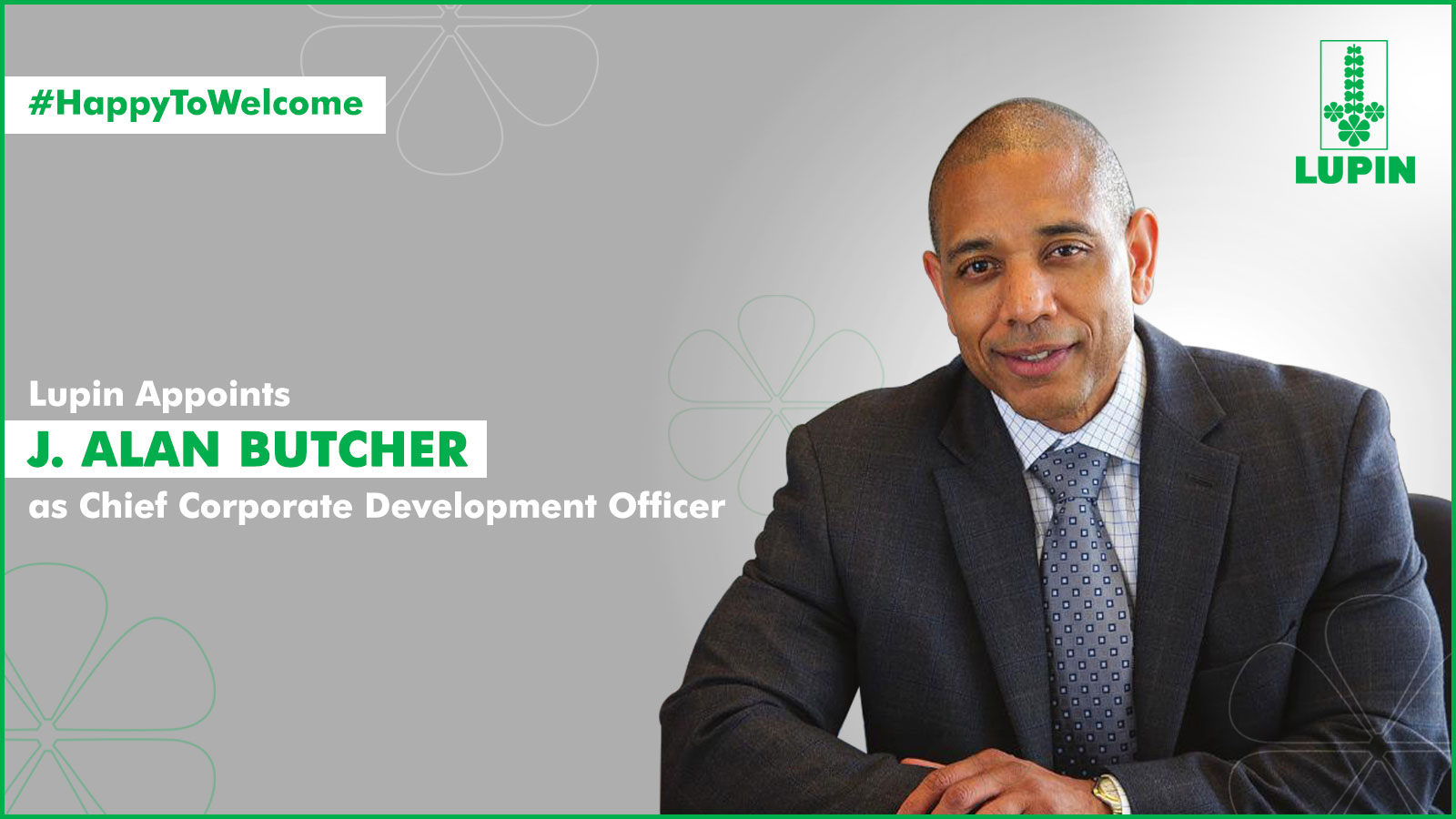 Mumbai: Pharma Major Lupin Limited (Lupin) announced the appointment of J. Alan Butcher as Chief Corporate Development Officer.  Alan will lead Lupin's Global Corporate Development efforts and will be responsible for the Company's Global M&A, Business Development and Licensing functions.  In this role, Alan will be responsible for leading the company's overall business development efforts, with a focus on continuing to build Lupin's Specialty and Novel products business. 
Commenting on the appointment, Vinita Gupta, Chief Executive Officer, Lupin said, "We are very pleased to welcome Alan to our leadership team.  Alan's experience in leading portfolio strategy and business development in specialty and big pharma companies, will help us enhance our plans to evolve our Specialty and Novel products business and optimize our capital allocation efforts to drive long term growth and value" 
Alan brings extensive strategic, business development, technical and scientific experience to Lupin from over 30 years in the pharmaceutical industry. He joins Lupin from AMAG Pharmaceuticals where he served as Executive Vice President and Chief Business Officer. Prior to AMAG, he served as Senior Vice President, licensing and business development for Purdue Pharma. Prior to Purdue, he led a global business development team and was responsible for identifying, evaluating and negotiating expansion opportunities at Shire Pharmaceuticals. Earlier in his career, Alan conducted scientific research in areas of molecular genetics, virology and cardiovascular drug discovery.
Alan holds a Bachelor of Science in Clinical Microbiology and a Master of Arts in Biology with a concentration in Molecular Biology and Genetics from West Chester University of Pennsylvania. He is also an MBA graduate from Cornell University's Johnson Graduate School of Management.
Alan will be based at Naples, Florida and he will report to Vinita Gupta, CEO.
About Lupin Limited
Lupin is an innovation led transnational pharmaceutical company developing and delivering a wide range of branded & generic formulations, biotechnology products and APIs globally. The Company is a significant player in the Cardiovascular, Diabetology, Asthma, Pediatric, CNS, GI, Anti-Infective and NSAID space and holds global leadership position in the Anti-TB segment.
Lupin is the 8th largest generics pharmaceutical company by revenues (June 30, 2019, Bloomberg LTM). The Company is the 3rd largest pharmaceutical player in the US by prescriptions (IQVIA MAT September 2019); 3rd largest Indian pharmaceutical company by global revenues (June 30, 2019, Bloomberg LTM); and 6th largest company in the Indian Pharmaceutical Market (IQVIA MAT September 2019).
For the financial year ended March 31, 2019, Lupin's Consolidated sales and Net profits before exceptional items were at INR 163,694 million (USD 2.34 billion) and INR 9,466 million (USD 136 million) respectively. Please visit http://www.lupin.com for more information. You could also follow us on LinkedIn and Facebook at https://www.linkedin.com/company/lupinglobal/ and https://www.facebook.com/Lupin-Global respectively.
CIN: L24100MH1983PLC029442 Registered Office: Lupin Ltd, 3rd Floor, Kalpataru Inspire, Off Western Express Highway, Santacruz (East), Mumbai 400 055
For further information or queries please contact:
Arvind Bothr
Head – Investor Relations and M&A / Corporate Communication
Email: arvindbothra@lupin.com
Ph: +91-22-66408237