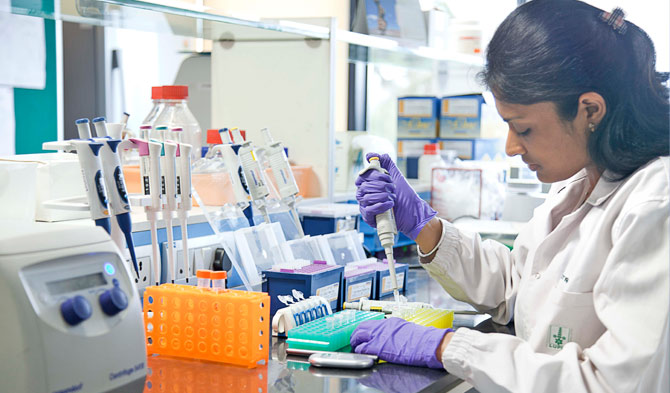 The cost effective, high quality alternative
Our quest for making high quality and affordable medicines for patients across the globe sparked our ambition of building a robust portfolio of biosimilars through investments in biotechnology research. Biosimilars are biologic drugs that are 'highly similar' in chemical composition to costly name-brand drugs with similar therapeutic and clinical results. The global biosimilars market is fast evolving, with biosimilars gaining good adoption in Europe and the US.
Our Biosimilar capabilities
Lupin has three centers in Pune – Lupin Biotech, Lupin Research Park (LRP), and Lupin Bioresearch Center (LBC) and all three centers are involved in the development of Biosimilars for the global markets. All manufacturing is carried out at Lupin Biotech, all biosimilar research in Lupin Research park and all the Phase 1 and PK studies along with testing for CT is carried out in the Lupin Bioresearch center.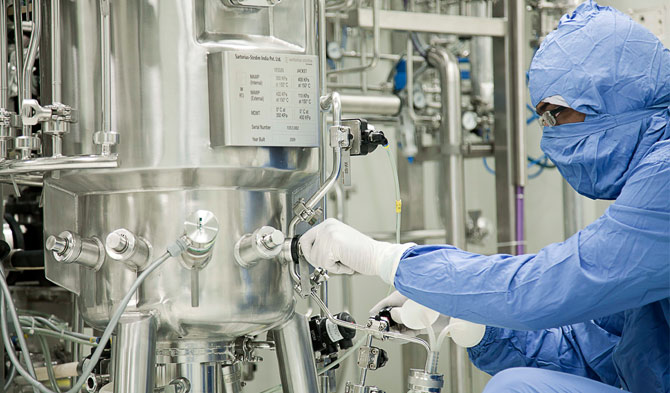 Lupin Biotech R&D team based out of the Lupin Research Park in Pune has advanced capabilities for development, biosimilars for both regulated and unregulated markets. Designed to develop and commercialise biosimilars global markets, Lupin Biotech conforms to ICH biosimilar guidelines issued by the U.S. FDA, EMA, WHO, PMDA and the Indian regulatory bodies. The biotech facility has capabilities to manufacture mammalian and microbial products for commercial global supplies. Having end-to-end capabilities along with a fill finish Vial and PFS line, all the products are manufactured as per global GMP standards. The Biotech site also includes a new 200-litre scale mammalian cell culture facility along with 2000 litres Mammalian manufacturing facility. An expansion to additional 2000 litres of mammalian capacity is completed. Another 12,000-litre facility expansion is currently ongoing. There is also a 100 litres microbial manufacturing facility for commercial supplies and additional expansion of the facility is planned shortly. A rich portfolio of diverse biosimilars of both microbial and mammalian origin are in various stages of development.
The Lupin Biotech R&D team has advanced capabilities for development, manufacture and pre-clinical studies in both regulated and unregulated markets.
LBC conducts both in-vivo and in-vitro bioequivalence studies as part of regulatory dossier submission for regulatory agencies across the globe. LBC has managed 74 studies in FY20 and cumulatively established over 300 validated analytical methods to date. The centre has two clinical labs and one bio-analytical lab supporting R&D.
Top products launched
Etanercept
Lupin's flagship project, Etanercept, has completed phase III of its global clinical trial and launched in Japan. The European Commission has granted marketing authorisation for Etanercept (branded Nepexto®) for all indications of the reference product, Enbrel® in June 2020, and launched in the EU starting September 2020. Further registrations are ongoing in various emerging markets. In December, 2020 the Lupin team launched the product under the brand name Rymti®in India, as well.
Filgrastim and Peg-Filgrastim
Approval has been received for the first IND in the US for one of our late-phase oncology products. A clinical study of the product is currently underway. Two oncology products — Lupifil® and Lupifil-P® (biosimilars for the molecules Filgrastim and Peg-Filgrastim, respectively) have been launched in India. CTD filing and product registration are being lined up for entry into regulated and semi-regulated markets.
Collaborations
Lupin Biotech has signed agreements with the CSIR-National Chemical Laboratory, Pune, and the Department of Science and Technology, Delhi, to conduct research for the development of biosimilar mAbs. It has also partnered the Biotechnology Industry Research Assistance Council, a Section 8 enterprise set up by the Government of India's Department of Biotechnology, for development of biosimilar products. Lupin Biotech has also entered into a joint venture with Yoshindo for the development of Etanercept for the EU and Japan. The company has partnered with Viatris for EU and emerging markets commercialisation, and with Nichi-Iko for commercialisation in Japan along with Yoshindo.